Featuring economy idle for "inverter like" fuel economy, reduced noise and longevity the EF7200E is feature packed. Comprising a digital meter displaying cumulative run time and voltage, keeping on top of maintenance is easy. The EF7200E provides serious full time power and offers 11 hours of operation without refuelling, has an electric starter for hassle-free start-ups and is capable of running most homes in an emergency situation.
KEY FEATURES
Auto Decompressor
Non-Fused Circuit Breaker
4-Stroke OHV Engine
Fuel Gauge
Brushless Alternator
Voltage Meter
Oil Warning System
Independent Fuel Tap
Spark Arrestor
Additional features include an electric starter and digital multi-function meter display which shows running time and voltage details. This model has quickly become one of our most popular backup generators for homes that experience mains power blackouts.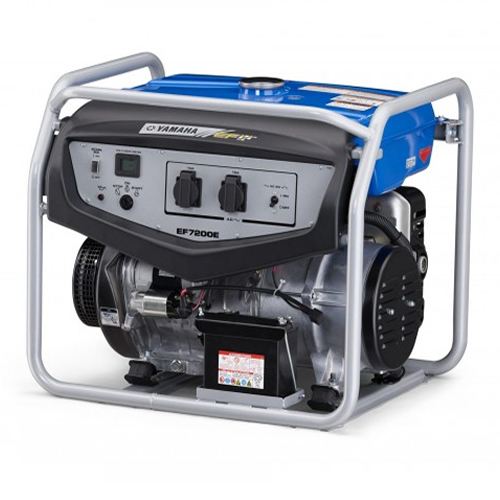 This unit is capable of running most homes in an emergency situation (including taking on larger load items such as fridges and air conditioners). The AVR alternator further enhances its claim as one of the best multi-purpose generators as it can also run more sensitive equipment, including domestic appliances/tools with electric motors.
The world-renowned Yamaha MZ360 engine is enclosed within high-strength pipe framing, making this genset also popular for tough farming and worksite environments. As an optional accessory, there is a sturdy Wheel & Handle kit which makes moving the generator around your property or worksite very easy.
The all new 6kVA model supersedes the 5.5kVA Yamaha EF6600E which means you get more power and run time for your dollar. Exceptional value for money for a premium product that comes with a 4 year warranty and national service network.
Share: